Judo Biography of David Malar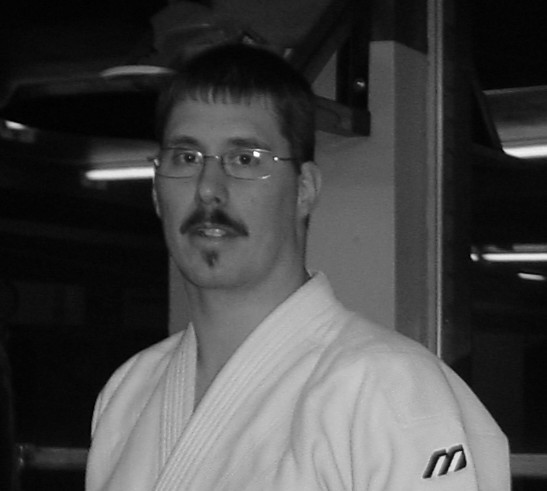 Please choose one:

"Personal Favourite" Version | "Mostly Real" Version





In 1971, I was born, much to my surprise, in Hamilton, Ontario, Canada. Though my parents masked their disappointment well, I sensed right from the beginning that they had hoped for someone older and more mature. I therefore diligently spent much of my childhood trying to grow up.

With constant effort and much personal sacrifice, I managed, at age of 14, to earn enrollment into high school, well ahead of my friends (I hung out mainly with the nursery school crowd in those days - a fun bunch, but lacking my drive for intellectual advancement).

At the age of 18, while on a weekend hiking trip across Kerblekistan*, I happened upon a linen store in a small town's central market area. An innocent remark about the clerks' (there were MANY of them, and few or no customers from what I could see) strange woven cotton uniforms led to a beating that I would never forget.

After being released from prison (apparently laying a memorable beating upon a store-full of angry, white-robed, clerks is frowned upon in Kerblekistan) at the age of 26, I was met by a stranger and taken in an Kerbleki limousine (actually a wooden cart pulled by a donkey – luxury compared to regular Kerbleki cars which are pulled by the driver), and taken back to that very same linen store!

Apparently my initial assessment was incorrect those many years ago – the linen store was actually the Kerblekistani national Judo academy - and my judo career was launched (or, perhaps, re-launched).

They insisted that I stay to teach them everything I knew about Judo, seeing as our initial randori session was so one-sided. In return for learning my secrets, they promised to promote me to the rank of Shodan. Since I had never done Judo before, it didn't take me long to impart to them all my knowledge.

Hours later, I arrived back home in Canada with my Kerbleki Shodan certificate and, after looking up the word Shodan and discovering what it meant, I immediately opened the Kakure Judo Club (following in the footsteps of Karate instructors everywhere!**). I have been teaching others the secrets of winning Judo ever since.

* Originally, I had chosen a real country, seemingly small and far away, and about which I really didn't know anything. However, after looking them up, it turned out that they have a really solid national Judo system, and rather than have a country full of angry, expert Judoka hunting me down, I decided to go with "Kerblekistan" instead. :)

**Strangely enough, Dave was concerned about offending people from a country he'd barely heard of before, and not karateka. Amazing. AJ.

*** Dave Here - I'm just assuming the Karate guys will know this was meant in jest and good humour... right??! :)




My "Mostly Real" Judo Biography (largely pilfered from the Hamilton School of Martial Arts' website):

David Malar, born into an athletic and competitive family, had a successful competitive swimming career prior to discovering the combat sports, and judo in particular. His interest in the combat arts has focused on using judo for self-defense and mixed martial arts training. David is a dedicated and successful judo and submission grappling coach.


Founded the Kakure Judo Club
21 years' martial arts experience
Began training in judo in 1989 at the age of 18
Was promoted to Black Belt by Judo Canada in 1999, and 2nd Dan in early 2009
Focus has always been on the full martial arts range of judo rather than strictly competition judo rules
Has additionally trained in full contact free-style fighting, and weaponry, his specialty being the Jo staff
Coaching since 1996 and founder and head instructor of Kakure Judo Club at the Hamilton School of Martial Arts
Holds NCCP Level 2 Judo coaching certification
Strong coaching career with students achieving podium finishes and championship titles in judo and BJJ tourneys.
"Judo Consultant" for the book "Mixed Martial Arts Unleashed" – McGraw-Hill, 2008 – ISBN 0071598901 / 9780071598903
Owns an IT consulting company, functioning, at the moment, as a network administrator
For fun outside of Judo, Dave is a sailor (www.selfmadesailor.com), HAM radio guy (VA3MLR), and scuba diver.

Our Sponsors: