Two Ankle Locks From the Grapevine Position - Ashi Kubi Hishigi

The above video is showing two different Ankle lock submissions that can be done when stuck inside someone's grapevine - grapevine being when your opponent is behind you with both of you prone, facing upwards, with the opponent's legs hooking your legs, and with his arms controlling your neck and upper body.

1. In the first technique, the opponent makes the mistake of crossing his legs in front of you, presumably to get a stronger grip/squeeze.

Let's assume the opponent has crossed their right leg over top of their left:

- Using your right arm, reach over top of your opponent's right leg at the knee and grasp their left (underneath) leg at the ankle. Pull on the ankle while at the same time pushing against the knee to achieve a more pronounced crossing of the legs. Generally the person will have their legs crossed at the ankles naturally - this will force the cross to be higher up on the leg at the Achilles tendon or lower calf area.

- Place your left leg over top of their right (upper) ankle and begin pushing down.

- Place your right leg over top of your own left ankle in a 'figure-4' position to gain even greater downwards pushing power.

- Complete the submission by pushing down as strongly as possible with both your legs while at the same time elevating your hips. This will apply tremendous pressure to your opponent's right ankle, crushing the lower calf or Achilles tendon over top of his left leg.

This is commonly referred to as Ashi Kubi Hishigi or Ankle Crush.

2. The second method shown is more of a twisting motion than crush, and the action is very similar to that of a heel hook. It is very effective and Rob Martino (demonstrating it in the video above) and his method of executing it referred to specifically in the book Mixed Martial Arts Unleashed on page 125.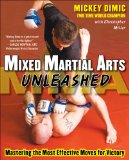 The benefit of this method is that it can be done without the opponent's legs being crossed, and even done using only one of your own legs (which is why Rob got the mention in the book!).

- Choose which of your opponent's ankles you are going to attack. For the purposes of this explanation, let's assume the right ankle.

- Turn somewhat to your right, placing some weight on your opponent's right leg, isolating it and preventing it from easily being withdrawn.

- Hook his foot deeply into the back of your right knee. The top of his foot should be pressed firmly into the back of the knee.

- This is optional, but unless you have very powerful legs, is recommended - Place the top of your own right foot into your left knee in a 'figure-four' position to trap your opponent's foot securely.

- Turn a little further onto your right side, begin to elevate your hips, and apply a firm downwards pressure with your legs unto the opponent's ankle, twisting it. At the same time, using your right hand or elbow, press the opponent's right knee towards the ground.

- This will create a tremendous torque around the opponent's ankle similar to that of a heel hook, and produce a submission

Learning some ankle locks from the grapevine position is strongly recommended - being able to attack from such a disadvantaged position can quickly produce a win or turn the match to your favour!




To the Techniques List | Top of the Page | Go Back